Intechtel specializes in business phone system sales, installation, service and management in Coeur d'Alene and surrounding areas. Whether you are looking to replace that old analog or digital PBX with an updated and modern on-premise phone system, or move to the cloud with a fully featured phone system without the large upfront costs, we've got you covered.
Our systems can support traditional landlines, VoIP/SIP, or digital (T1) services. All systems are built using industry best practices and offer maximum reliability with support and maintenance included at no additional cost. Receive a free on-site survey and professional recommendation. 
Click on any of the options below for more information. 
Questions? Let's talk –  208.635.4400  |  info@intechtel.com
Cloud-Based Office Phones
Secure and reliable cloud-hosted PBX
Expertly built configuration
Customized to fit your needs
Small Office Phones
Designed for Small Offices
Up to 25 phones
Expertly built configuration
Server on-premises 
$
49.99
/Starting@ per month, per phone
Cloud-Based Phone System
Call for additional pricing options.
Request a Free Phone System Quote
Find the Right Phone System For You.
Intechtel installs and services the best in VoIP, PBX, office phones and multi-line systems, including 4 line phone systems. Not sure what type of phone system you need? View or print this one-page flyer or view table below for more information.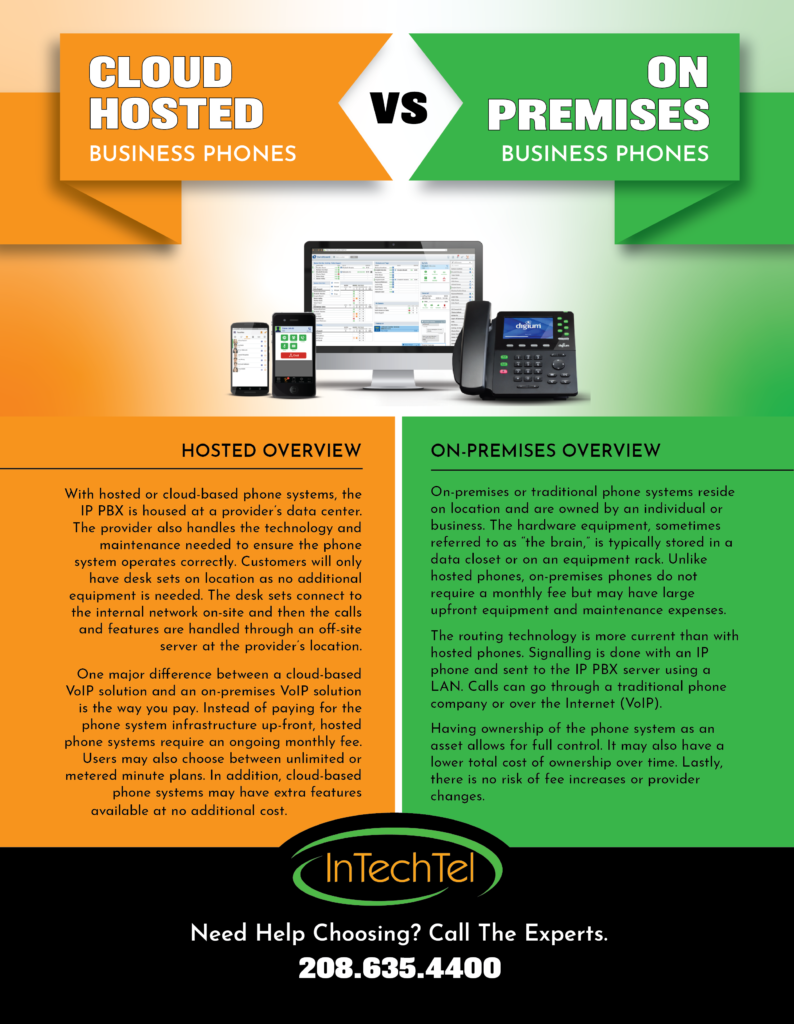 Hosted VS On Premise Phone Systems
Hosted PBX or VoIP phone systems are cloud-based, while on premise phone systems are independent phone systems with servers and hardware on site.  Each type of system has pros and cons. Read below to learn more about hosted vs on premises phone systems. 
HOSTED PHONES

ON PREMISE PHONES

Description
Description
Equipment is maintained at off-site data center and is cloud-based. The phone systems connect to data center over the Internet connection.
Equipment is kept on-site. Premises phone systems are connected locally to the on-site server.
Features
Features
Call control, collaboration, call management, messaging, voicemail, mobility, contacts, call training, web-based management, contact center, integrations, analytics
Call control, collaboration, call management, messaging, voicemail, mobility, contacts, call training, web-based management, contact center, integrations, analytics
Cost of Service
Cost of Service

PROS

No equipment maintenance cost

Much lower set-up cost

Operational expense model

 

CONS

Ongoing monthly cost

PROS

  Not locked into a monthly plan

  Potentially lower total cost of ownership, especially with growth

  Company asset

 

CONS

  Higher initial set-up cost

  Equipment maintenance and support costs

Future Expansion
Future Expansion

PROS

Less risk, work and complexity – provider is responsible

Quickly grow and easily cut-back

No manual maintenance or updates

 

CONS

Can be limited on number of phones based on bandwidth/network

PROS

Complete control of expansion

Flexibility – switch solutions or mix and match

 

CONS

A larger systems means more complexity you will have to manage on your own

Installation and planning take time

Control
Control

PROS

No updates and maintenance – provider is responsible

 

CONS

No control over your system. The provider has actual control of the phone system.

PROS

Total control over your phone system

Able to really customize to match needs

 

CONS

All maintenance, updates, fixes and support must be handled internally or hired out by the company.

Flexibility
Flexibility

PROS

Provider may provide solutions that a business could not financially afford if obtained independently

 

CONS

Some features and options don't scale up cost-effectively

PROS

Total flexibility – Phone system owners can do as they wish with their equipment.

 

CONS

Changes can be expensive. Some companies may not have the IT or financial resources to make major changes.

Implementation
Implementation

PROS

IT personnel or contractor typically trains staff

 

CONS

May take longer

More equipment needed

PROS

Easy to get started

Inexpensive to implement

Not dependent on IT personnel

 

CONS

Training will be required for users. Training may or may not be offered by providers.

Recommended For
Recommended For
Any business that wants a lower initial start-up cost and quick implementation. This may be an appealing option for small businesses or start-ups businesses.
Businesses or enterprises with the available IT budget to afford the initial set-up cost and have a need for more control and flexibility. Or, businesses that don't want to be locked into a monthly fee for the duration of the phone system's use.
Business Phone Systems – Coeur d'Alene, Spokane Area
With so many options, we know that buying a phone system for your business is often a daunting task. Navigating the waters of proprietary, closed, and feature-lacking systems is now a thing of the past. Intechtel builds and deploys systems with a nearly unlimited feature set as a standard that will work with traditional phone service, cellular services, and Voice over IP (VoIP.)
Questions? Give us a call –  208.635.4400
Or send an email to – info@intechtel.com
Client Testimonials
Incredible experience. Just relocated my software engineering company to the area and Intechtel was an amazing resource to us for all of our networking and communication needs… They care, they take pride and they can be trusted.

- Jacob M.

/ Business Owner

I love our new system. The customer service is top notch. I had a lot of questions and they were friendly and patient through all of them.

- Pastor Tim Remington

/ Local Pastor

Top notch Company! Adam and his employees were on time, very friendly, and did everything we asked them to do. I would recommend Intechtel to anyone!

- Daniel C.

/ Business Customer