Internet Service for Coeur d'alene & Spokane Area
Cable-Based Internet
Up to 200 Mbps Download Speed
Free Modem
No Contract
Great for 4K Streaming
No Data Caps
74.99/mo After 12 Months
Self-Installation $9.99
Pro Install $49.99
For 12 Months When Bundled
Cable Based Service
Up to 400 Mbps Download Speed
Free Modem
No Contract
Great for 4K Streaming
No Data Caps
84.99/mo After 12 Months
Pro Install $49.99
Cable Based Service
Up to 940 Mbps Download Speed
Free Router
Free Modem
No Contract
Great for 4K Streaming
No Data Caps
124.99/mo After 12 Months
Pro Install $199
Cable Based Service
Internet Service & Support for CDA, Post Falls, Hayden & Spokane Area
Intechtel offers residential Internet service with available download speeds up to 940Mbps (not available in all areas.) All plans come with a dedicated local account manager to handle all of your needs, and if you ever need technical support or just basic computer help, we are here for you! Lets see any other Internet company do that!
Call us at 208-635-4400 for information on other available plans and services. Not sure about what Internet service plan would best fit your needs? Check out our page on choosing Internet service or give us a call, we would be happy to assist you with any questions. See some of our most popular home Internet service, TV, and phone packages above.
Intechtel now offers wireless Internet Service in western Kootenai county and Eastern Spokane! Call 208-635-4400 for details.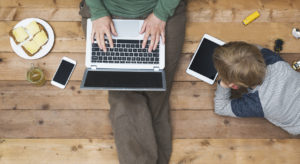 How to Troubleshoot Slow or Down Internet
Troubleshoot Down or Slow Internet
Try "unloading" the network. Meaning, make sure no devices (or as few devices as possible) are using the network, especially for streaming or gaming. If you unload the network and your speed goes up, then you may need to purchase more bandwidth.
Connect on a modern device. Outdated computers, phones, and other devices may not be capable of utilizing all the bandwidth available to you from your WiFi router. If possible, try connecting on a newer device. You may find that the old device is the issue and not the Internet.
Get closer to the router. If using WiFi, move close enough to the router to physically see it. If connectivity and speed improve you may need to increase your router's output power, work closer to the router, or invest in a solution that helps to extend uniform WiFi coverage throughout the home. See WiFi Networks.
Perform a speed test over a wired connection. You will get the most accurate Internet speed test when plugged right into the WiFi router itself using a network cable (Cat5e/Cat6).
FYI – Internet Service Topics