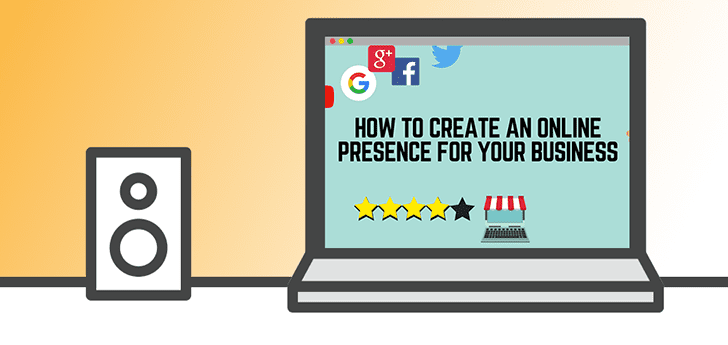 How do people find out more about a business? They probably Google it. That's why business owners need to be hyper-aware of how their business looks online. Whether you have a new business or an established business that is unsearchable on the internet, now is the time to work on your online business presence. Here are five effective ways to ensure your business looks as professional and trustworthy online as it does in person.
#1 – Get a website
An obvious but necessary component of building an online presence. Let's compare two different options.  Squarespace is a good choice for the tech savvy, do-it-yourself small business owner.  You will most likely pay $8 – $24 a month for a nice-looking website that may suit your needs just fine.
Another option is WordPress, the most popular way to manage your website content. WordPress allows your website to grow with your business and it is much more customizable than Squarespace. You will also have the freedom to choose where your website is hosted (GoDaddy, Site Ground, etc.). With Squarespace, you will be obligated to pay and host with Squarespace for the life of the website. You can get a modern, SEO-friendly WordPress website starting at $3800 with Intechtel. Intechtel's web design department will work with you to customize your site.
#2 – Set up a business Facebook page and post regularly
Setting up a business Facebook page is a fun and easy way to connect with your customers. It will also broaden your online presence. When someone "Googles" your business, your Facebook page should appear in the results along with your website. This gives people the impression that your business is legitimate and reputable. If customers have left reviews on your Facebook page, a star-rating will often show on the search result (see below).

A quick tip for creating Facebook posts. Use a website like Canva.com to create free/inexpensive, professional looking posts. There are tons of templates to choose from.
#3 – Set-up a Google business listing
When someone Googles a product or service in a specific location, Google will serve local listings with a map before the normal search results appear (see below). Having a Google listing is a must for small businesses that serve local areas. Customers can post reviews, go to a website, call a business or get directions to a business right from the listing. If you have a physical address and you do business in a local area, go to google.com/business to get started.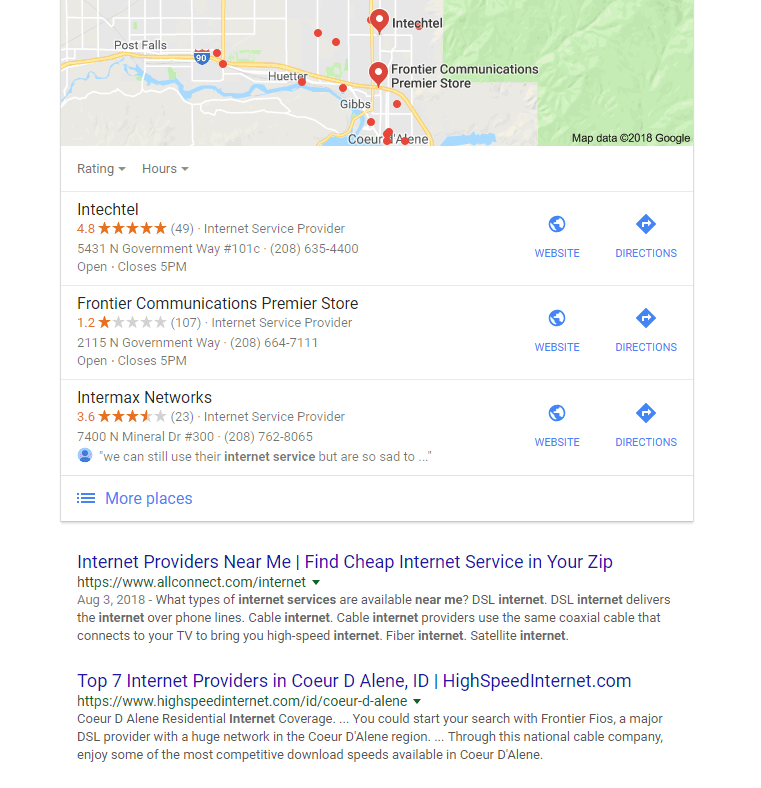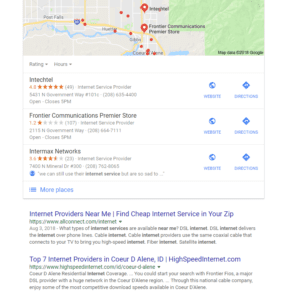 #4 – Set-up additional directory listings
Get accounts set up on directories like Yelp and get some reviews. By setting up accounts on popular directories, customers will be able to get opinions about your business from outside sources. People want to know what other people think about your business. According the Forbes.com, 84% of people trust online reviews as much as personal recommendation. So, be proactive and ask past customers if they would write a review for your business. Plus, these directory listings will show up on a Google search of your business in addition to your Facebook page and your website. This gives greater credibility to your business.
#5 – Optimize your website for search engines (aka Google)
SEO or Search Engine Optimization can be a moving target. According to Wikipedia it is the process of affecting the online visibility of a website or a web page in a web search engine's unpaid results—often referred to as "natural", "organic", or "earned" results. Here's the deal. If someone Googles your business name (assuming you have a distinctive business name) your website, Facebook and directory listings will most likely pop up. However, if you want to be found for the products or services you offer (restaurant, sporting goods, dentist, etc), you will need to put in some extra work. This includes optimizing your website and some off-page optimization. If you need some direction, call Intechtel for more information. Intechtel offers SEO services and web design.
Keep in mind, building an online presence doesn't happen overnight. Get started on what seems most achievable right now and move down the list at your own pace. Whether you complete each step yourself or partner with a company like Intechtel, the payoff is worth the investment. Building an online business presence connects you to the "Googlers" and online information seekers in your town.